Learn More About


Technology
A key priority for Design & Technology is to open pupils eyes to the world of possibilities around them, by offering a fully inclusive curriculum providing cultural capital opportunities for enrichment and inspiration, to equip learners with the knowledge and skills to become well rounded and educated citizens who have the potential to access A-level and beyond. Topics are specifically designed to enthuse and are inclusive of needs, ability and interest.
The Design & Technology curriculum is carefully sequenced over KS3 and KS4 to develop the knowledge needed to prepare learners for GCSE, A-level and beyond. Pupils are consistently provided with opportunities to revisit key concepts to ensure deep and meaningful learning takes place throughout their Design & Technology journey.
Underpinning all we do is our academy ethos of excellence and kindness:to be our very best version of ourselves.
What are the minimum expectations of the National Curriculum/Exam specifications?
The KS3 National Curriculum for Design and Technology states that 'Design and technology is an inspiring, rigorous and practical subject. Using creativity and imagination, pupils design and make products that solve real and relevant problems within a variety of contexts, considering their own and others' needs, wants and values.'
This is further broken into:
The national curriculum for design and technology aims to ensure that all pupils:
develop the creative, technical and practical expertise needed to perform everyday tasks confidently and to participate successfully in an increasingly technological world
build and apply a repertoire of knowledge, understanding and skills in order to design and make high-quality prototypes and products for a wide range of users
critique, evaluate and test their ideas and products and the work of others
How do we make our curriculum aspirational?
We have audited our curriculum against the National Curriculum to ensure we are covering this throughout each pupils design and technology journey. However, we see these national curriculum requirements as the absolute basics. Going beyond this we endeavour to ensure that the curriculum we deliver is aspirational for all our pupils.
This includes a cultural capital- informed approach to our curriculum to ensure all pupils recognise the importance and impact of design and technology and how invaluable it is in opening doors across many sectors. We understand that design and technology can help broaden our young people's life choices and opportunities for the future and we are passionate about sharing this through as many different design-related meaningful experiences as possible.
We are working on relating design content within our curriculum to our learner's lives and local communities. We understand that this will improve engagement and allow our pupils to recognise the relevance of our curriculum to their everyday lives. A part of this is to ensure we continually share the importance of design and technology to a variety of different fields from those well-known academic pathways such as architecture to less well-known connections such as automotive and aeronautical engineering. We want all our pupils to be passionate about design and technology because they value it as a subject and understand that it will open doors to a wide range of future careers.
Pupils of all abilities are opting to take design and technology at GCSE. Whilst the new specification is more academic than previous ones, learning is scaffolded to ensure those lower attaining pupils are successful in this course. This is particularly important in the context of our school, where higher levels of pupil premium pupils can mean there are larger gaps in their cultural experiences and technical education. We are dedicated to closing these gaps through a variety of methods in the sequencing of the inspiring curriculum, teaching approaches used within our classroom and after school activities.
In the demands of the lesson we make it aspirational without been exclusive in terms of the level of success it aims to achieve, so we try to build a long term schema of knowledge instead of just a well-practiced retrieval of facts. We know many of our pupils can lack confidence in achieving academically in their subjects and look to design and technology as a practical option. Our goal is to ensure that our lessons are challenging but scaffolded in a way that ensure pupils are successful to build their confidence in our subject. Building their confidence and enabling them feel 'good' at design and technology is crucial for their continued interest and focus in our subject.
The KS3 curriculum is structured with 1 hour lesson per week incorporating;
Pupils have their own sketchbook and throughout the year they complete 3 projects being assessed each half term on a level of skill based on A01, A02, A03 strands of assessment and learning. This allows sequences skills and knowledge that prepare pupils for accessing the GCSE course.
AO1 Identify, investigate & outline design possibilities
A02 Design & make prototypes that are fit for purpose
A03 Analyse & evaluate
The KS4 curriculum is structured with 5 hour lessons per fortnight incorporating;
Mini NEA style projects over Year 10 and Year 11. (Assessed half termly) Curriculum teaches skills based on A01, A02, A03 strands of assessment and learning.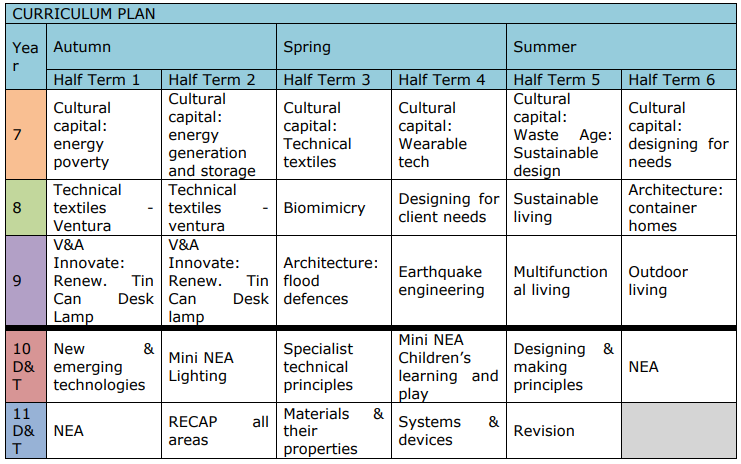 Our curriculum
How is the course structured in KS4?
The course is made up of two units of work.
Component 1: NEA Portfolio (50%)
Pupils must produce a portfolio of work demonstrating their response to a contextual challenge set by the exam board.
Component 2: 2 hour written exam (50%)
Question paper containing a mixture of multiple choice and longer answer questions.
How is work assessed?
Both units are marked internally and moderated by the examination board.
Assessment is based on three Assessment Objectives, which are designed to measure Pupils' progress in terms of their development of knowledge and understanding.
Summative assessments occur three times throughout the year which involves a two week period of revisiting previous skills in order to create a final piece of work.
In the current situation, it is evident that our pupils have struggled going through two lockdowns away from their routines and socialising and the lack of practical experience.
Cognitive science
Our long term and medium term plans are built around the current research about the importance of cognitive science in teaching and learning. We look to the bigger picture of where this new knowledge links to prior learning and key
concepts. This is to ensure deep and meaningful learning is consistently taking place within lessons (learning defined as 'an alteration in long term memory'- new Ofsted handbook 2019). We ensure that learning is deep and meaningful, without overloading the working memory.
To support deeper learning within our curriculum, staff employ the use of metacognitive strategies. These are explicitly taught in conjunction with subject specific content to ensure Pupils can successfully apply these to their own learning.
Pupils become increasingly independent from Years 7 – 11, building confidence in practical and skills and greater depth of understanding in each area of learning. This involves a series of steps within each lesson that begins with activating prior knowledge and leading to independent practice before ending in structured reflection. These are based on Barak Rosenshine's Principles of
instruction.
Teacher starts each lesson with a knowledge drill (review of relevant prior knowledge to activate schemata ready to build new knowledge into long term learning)
Learning question
Small amounts of new knowledge are presented at a time with the opportunity for Pupils to then practice this new material
Regular, extensive questioning of all Pupils
Model answers and worked examples are regularly provided where appropriate
Give Pupils opportunities for extensive, successful, independent practice
Use formative/summative assessment and feedback-next steps to secure Pupils' progress
Reflection of learning question.
Follow Behaviour for Learning protocols
Use of knowledge organisers
This includes a focus on the language used in design and technology lessons. Pupils are supported in their learning to ensure they are using not only the correct vocabulary but also connectives and command words necessary for a deeper understanding of literacy in design and technology. We have a focus on deliberately building tier 1, 2 and 3 vocabulary in lessons and use systematic approaches to teach the most important tier 2 and tier 3 vocabulary in design and technology. For some this means studying the etymology of these words and through greater detail looking at examples and non-examples of such.
Assessment
Our design and technology curriculum has been designed to ensure there are consistent opportunities for low stakes testing throughout. This is through the use of knowledge drills every lesson that focus on prior knowledge relevant to
the lesson and the use of design sheet activities at specific stages of learning.
Our assessment plan offers plenty of opportunity for retrieval practice and assessment of long-term learning. It is also designed to develop independent learning where pupils are challenged to respond to contextual challenges,
identifying design opportunities and solving real and relevant problems.
Year 7 Pupils complete 3 end of topic assessments (each term), which focus on demonstrating knowledge recall and understanding of key design skills. These assessment comprise of a blend of design sheet assessments and multiple choice and longer written answers. Pupils then peer assess and self-evaluate their design sheet work whilst the teacher marks the written responses with focus on identifying areas of weakness and/or misconceptions.
Each test will contain synoptic questions about previous content so will gradually increase in length, with the final end of year test assessing their learning over the previous year.
Year 8 Pupils will again complete 3 end of topic assessments, which focus on knowledge recall and application of design and evaluation skills. These contextual challenges are completed independently by pupils. Pupils then peer assess these using the mark scheme and again complete relevant follow up questions which focus on their areas of weakness.
Each test will contain synoptic questions about previous content so will gradually increase in length, with the final end of year test assessing their learning over the previous year.
Year 9 Assessments take place at the end of every topic and with pupils working independently on these. Extended questions now take the form of GCSE exam style questions (6-mark questions), which are marked for literacy and design knowledge. These are modelled and scaffolded by the teacher to support pupils in how to best answer this style of questions.
Year 10 Pupils complete a GCSE style NEA project in terms 1 and 2 and then start the actual NEA in term 3. Pupils complete formal mock exams at the end of the year to access knowledge and understanding. Questions are based on past GCSE questions.
Year 11 Pupils continue to work on their NEA in term 1 and complete their work in term 2. Pupils complete a mock GCSE examination paper at the end of term 1 and a second in term 2.
Meeting learners needs and SEND provision
All the approaches to teaching and learning described above are designed to support all learners in design and technology. Fundamentally all our lesson are planned with the intention to teach to the top and scaffolding is used to
support pupils in achieving mastery of each concept. All staff use intentionally designed seating plans to ensure they are aware of and can support all the needs of learners in their classroom. Individual Education Plans are used in every lesson to further support those pupils that require additional, individualised support to enable them to achieve their full potential.
Staff development
Design and technology staff are well read about current pedagogies and practices that support excellence in teaching and learning and support one another in the development of these within our own lessons. Staff development is supported through our work with external partners such as the STEM Learning Network and DATA. This is supplemented by whole school CPD and coaching programmes.
We have high expectations of all our pupils, in terms of their standards and behaviour and in respect to their own progress within design and technology. The curriculum structure ensures this, in the development of a learning journey
that makes consistent links to key concepts and prior learning.
The impact of this is measured through the data produced at each key assessment point and through external assessments at KS4. Question level analysis is carried out to ensure assessment data is utilised in a meaningful way, to address misconceptions and target intervention for individual pupils.
We are passionate about improving the cultural and technical capital of our young people so they are equipped with the knowledge and skills for the next stage of their journey.
We are currently developing an enrichment programme in design and technology that not only continues our work with STEM ambassadors but also provides a variety of experiences such as electronics, engineering, virtual reality and 3D printing. We also offer Crest award, V&A Innovate and Design Ventura, creating meaningful design experiences for each year group.
To monitor whether our intent is being achieved we will periodically include student voice through discussion with a range of selected pupils to ensure that their feedback and any concerns are taken into account when developing our
curriculum and programme of design and technology related experiences. We regularly review the curriculum and consistently monitor student attitude, work and outcomes to drive the improvement and development of our design
and technology department.