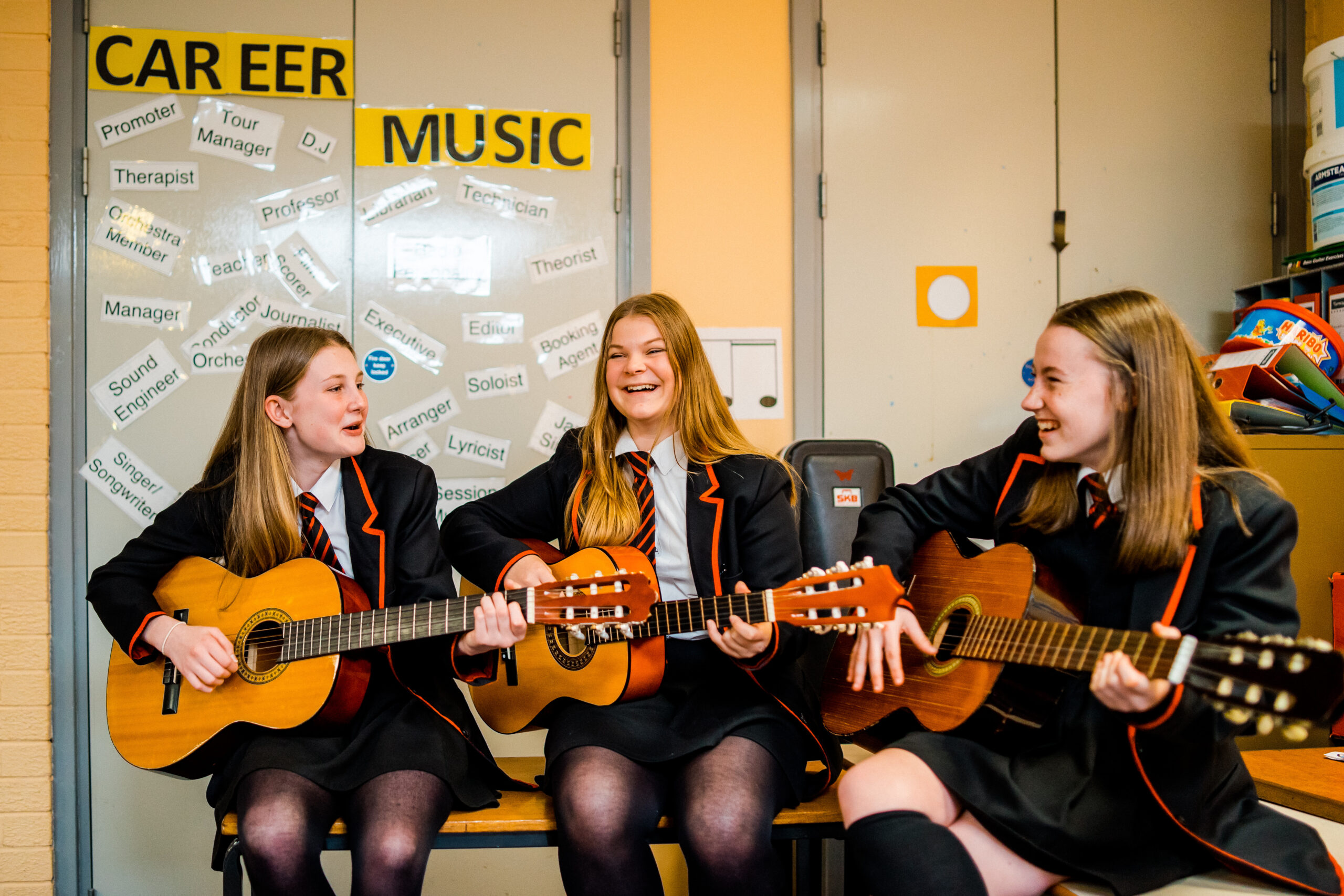 Music
Music enables all pupils to develop their musical potential through engaging experiences, recognising that music as art is an important part of cultural identity. We aim to encourage and prepare students for lifelong musical learning and appreciation, both in and out of school, including preparation for further study if appropriate.
Music has the ability to bring people together and to touch people from all walks of life regardless of their background or experiences, promoting unity rather than division. From Beethoven to Bruno Mars, an inclusive practical musical backdrop is at the heart of all we do in our desire to create well-rounded musicians, lasting friendships and lifelong learners. We hope that the Music curriculum will inspire our pupils to enjoy music making and be proud of their achievements and talents, whilst developing their self-confidence, creativity and sense of achievement. Our learners are provided with opportunities to explore and challenge their views on style, diversity, expression and technique through performance, composition and appraising. We believe music can impact positive change and transform lives, now more than ever.  

The Music curriculum is built on a 5-year spiral curriculum between Years 7 – 11, which encompasses development of creativity whilst introducing students to progressively more challenging concepts. 
Year 7 pupils begin their learning journey by learning what it means to read and write using Pitch and Rhythm. Pupils are introduced to a variety of instrumental skills essential to perform as an ensemble.
Moving into Year 8, pupils develop an understanding of the construction of musical structures over time using and developing their knowledge of Pitch and Rhythm to compose their own melodies and polyrhythms which are used to create their own Musical ideas. Pupils develop their individual technique for performance. 
In Year 9, pupils explore more complex concepts surrounding such as harmony and texture and refine their instrumental skills to become leaders and offer clear feedback to one another.
Singing is intertwined into all schemes of work and is a fundamental skill of improving confidence, developing musicianship and understanding of internalised pitch. There are opportunities for links made with other subjects for example;  
Year 7 Music students link their knowledge with the Year 7 Science curriculum by learning how Musical Pitch is linked with frequency and sound waves. 

 

Year 8 Music students link their knowledge with the Year 8 History curriculum by learning about how The Blues is linked with the Transatlantic Slave Trade.

 

Year 9 Music students link their knowledge with the Year 9 PSHCE curriculum by composing their own Protest song linking it with Animal Rights issues and injustices.




 
Music lessons are centred around Rosenshine's Principles including; Reviewing learning, presenting new material in small steps whilst asking key questions, providing high quality models and examples, practicing using new information or skills, checking for understanding, providing scaffolding and encouraging independent practice.
All units of work are matched with Tier 3 Vocabulary that are displayed, defined and revised. Pupils must use this Vocabulary in their responses whilst developing their Oracy skills during structured listening and feedback to practical music making. Alongside developing pupil's knowledge, Music lessons consist of refining student's instrumental abilities and techniques that challenge all learners. Teachers teach to the top and offer extra support wherever necessary.  

In Music, our assessments have a clear purpose and provide meaningful information about pupil's capabilities. 
Formative Assessment  
Knowledge recall tasks activating key information that is required to be successful in the lesson and unit of work.

 

Lyric writing, writing down chord sequences when song writing and using musical literacy such as notation to support a composition or performance piece.

 

Written reflection activities such as answering the learning question.

Challenging pupils to answer a GCSE Exam Style question at the end of every lesson based on the Tier 3 Vocab and key content of the lesson which are used in GCSE Written exams.

 

Shared Success Criteria through a Progress Radar that students track their own progress using self – assessment each lesson.

 

Self and Peer assessment using a Feedback Menu.

 
Summative Assessment   
End of unit Group Performance which is recorded (Teacher assessed with strength and target codes alongside self assessment on students own WWW, EBI and Targets based on shared Success criteria).

 

End of topic 20 question quiz assessing student's understanding of the Keywords through appraising tasks.

 

Pupils complete their final self assessment tracking their overall progress using the Progress Radar.

 
As a faculty we are incredibly proud of our cultural capital offer for our pupils. Opportunities are mapped around the curriculum to support the content and to provide context. Pupils develop a better understanding when they can experience and be inspired by live Music. This in turn allows pupils to engage more and be inquisitive surrounding their learning.  
Music teachers perform on a daily basis to allow students to see what mastery looks like.

 

Extra-curricular activities are open to all pupils at Rudheath. These clubs will often lead to performance opportunities in assemblies, community projects and shows. 

 

Throughout the year we offer trips, performance opportunities, visits from performers and theatre professionals, awards, competitions between pupils to increase pupil engagement. 

 
Just as there are a variety of courses available to pupils in music at Key Stage 4, the subject offers a variety of specialisms to choose from including musical performance, composition, and production. 
Increasingly, employers and universities are looking for young people who have skills that are learned through creative subjects: creative thinking, emotional intelligence, adaptability, communication and tenacity to name just a few. And universities are keen to attract students who have a well-rounded education and achieve good results, no matter what the subject.
Being a musician isn't the only career in music – other options include being a sound technician, community musician, music therapist, teacher, or private tutor, or a range of careers in the music industry, in a concert hall or music venue.  
The arts/creative industries.




This might include work in film, TV, theatre, radio, arts administration, or creative education.

 

Professions such as medicine, law, accountancy.




Music is highly regarded as an academic subject and so could complement your other studies in leading to a professional career.

 

Any other pathway a young person might choose.