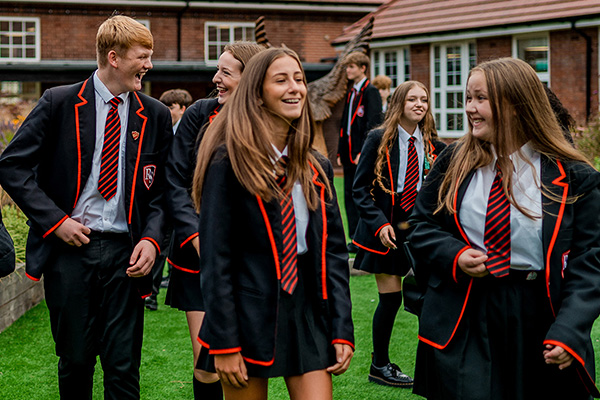 Parent Support
Rudheath Senior Academy will foster an ethos and atmosphere where all parents feel supported, welcomed and valued.
We foster a shared and collaborative approach with parents and carers and adopt a multi-agency approach. We believe two-way communication between home and school is vital and by working together we can ensure best outcomes and opportunities for all our students.
Parental Enquiries
On all general matters concerning students' home circumstances, absences, behaviour etc., parents are advised to contact the Form Tutor in the first instance. Should the enquiry require further escalation or support, the Head of Year may liaise directly with parents and carers.
On all subject matters concerning students' courses, reports, examinations etc., parents are advised to contact the appropriate Head of Faculty.
Unless the matter is urgent, parents should write, email or telephone to make an appointment; please see our Contact Us page for further details.
The school also operates an electronic messaging and email communications service whereby parents/carers can receive text messages and emails regarding important events at school affecting their child. We strongly recommend that all parents/carers register on the website Arbor. Parents/carers can update their records using this service. Email correspondence will be sent to the registered email upon admission to Rudheath.
Engagement with Parents and Carers
Communication
We engage in regular conversation about students' progress both academically and pastorally. This could be through the school website, texts, email, telephone, letter, student planner, face to face meetings at school or home visit.
Newsletter
We provide parents/carers with a weekly newsletter released on a Friday to keep you up-to-date with information, key events and information on life in school.
Parents Evening
Throughout the year evenings are set aside for parents/carers to meet with their son/daughter's subject teachers. These dates usually follow shortly after a progress report so that discussions between parent, teacher and student has real meaning and all can contribute.
Options Evening
Options evening for Year 9 and Year 11 are key events in the calendar. This is an opportunity for parents/carers and students to hear and talk about the "next steps" in the Rudheath educational journey.
Transition Events
We will meet with parents/carers during the transition process, including events such as 'Meet the Headteacher'. We will keep you informed throughout all milestones in students' education journey with us at Rudheath.