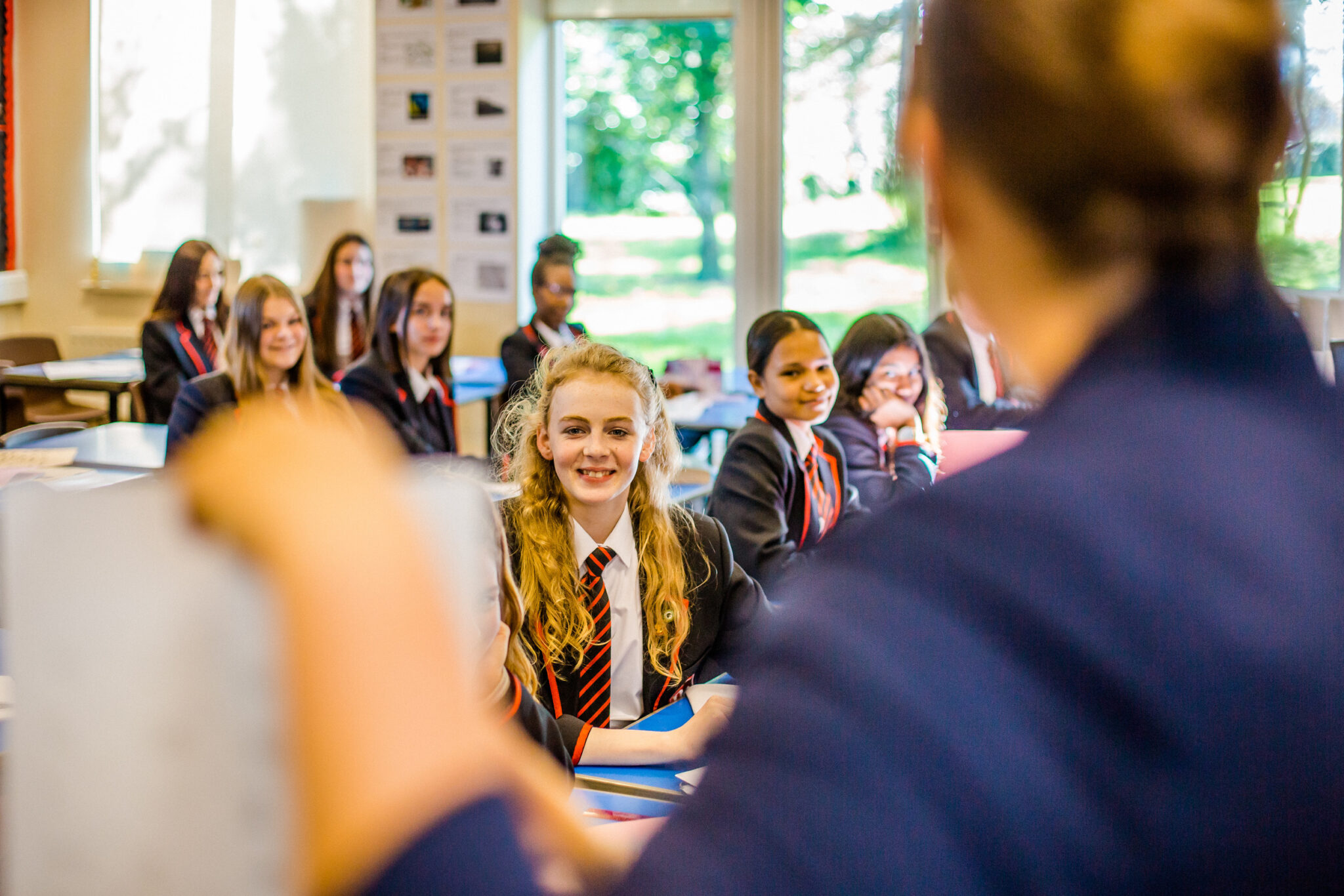 English
The purpose of the English curriculum is to equip students with the skills and knowledge to become confident thinkers, speakers, and writers. We want to ensure that students are prepared for each stage of their academic journey and the world beyond the classroom. Through the study of a range of texts written by diverse voices, students are encouraged to discuss, debate, and explore universal ideas.
Our English curriculum aims to challenge students to become critical thinkers by exposing them to a range of ambitious and diverse text choices. The broad scope of our subject allows us to take our students on a journey through time, enabling them to see the world through diverse perspectives. We wish to empower our students through language to become articulate, confident and open-minded individuals. We believe that English is especially positioned to develop students culturally, emotionally and spiritually and our topics, themes and text choices provide a springboard for this.  
At RSA, all learners develop a range of skills through studying the three main areas of the English curriculum: reading, writing and speaking and listening.  The curriculum is sequenced over KS3 and KS4 to develop the key knowledge, concepts and skills needed to prepare learners for GCSE, A-level and beyond. 
 In our modern society, English has a transformative power, providing skills which embody all aspects of life and will enable our students to become successful members of our society. As Margaret Fuller so aptly said: 'Today a reader, tomorrow a leader'.  
The curriculum has been carefully sequenced to introduce students to a variety of literary genres and forms, including different writing forms in order to equip students with the skills for success at Key Stage 4 and beyond. Writing topics are intertwined with challenging texts to expose students to a range of text types from a range of different time periods.  
Our Key Stage 3 curriculum provides students with the foundations for learning at Key Stage 4, such as a knowledge of 19th Century Britain and the Elizabethan era. This enables us to build on this knowledge during Key Stage 4 and to introduce more challenging ideas and concepts.  
Students also explore themes which run through our curriculum, such as gender and conflict, to allow them to explore how writers present such themes and to deepen their understanding of the world around them and enhance their cultural capital.  
Students begin their English lessons with a knowledge recall activity to assess and reactivate prior knowledge. Teachers frequently model their thought process when writing extended answers and provide students with modelled, worked examples to deconstruct. Challenging vocabulary is taught explicitly using the Frayer Model and students are encouraged to apply this in both their spoken and written work. Students are encouraged to fully participate in class discussion through the use of cold-calling and structured talk between peers. 
Students are assessed formatively though fortnightly whole-class, teacher feedback in their books, targeted questioning and regular knowledge 'quizzes' to enable teachers to identify gaps in knowledge to reteach. Students are also assessed through summative assessments each half-term which check their understanding of a whole topic or skill, and their written communication.  
Homework is set through Bedrock for Key Stage 3 to enhance and develop their vocabulary and students are also actively encouraged to read for pleasure. In Key Stage 4, students utilise Seneca for revision. 
Students are provided with opportunities to watch performances of Macbeth and Romeo and Juliet and are also offered the opportunity to take part in the White Water Writers project where they work collaboratively to write a novel in a week, which is then published.  
English can lead on to further study at A-Level and degree level in Media Studies, English Language and English Literature. English underpins any role and career, however some that are more specific to English may include: 
Publishing

 

Writing

 

Editing

 

Teaching

 

Law

 

Human Resources