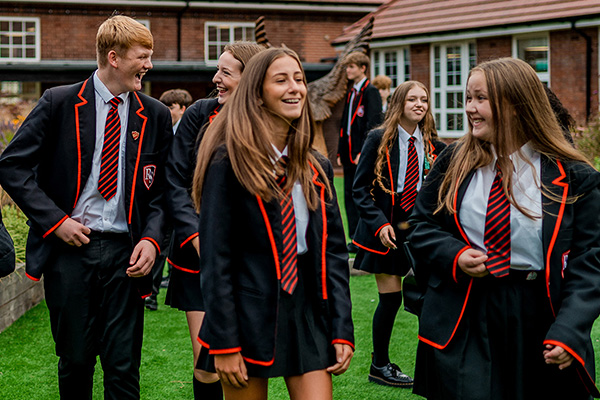 Dress Code
Rudheath Senior Academy students are expected to wear our uniform correctly and in full.
We believe uniform gives a sense of identity and belonging to our students and reflect the high standards we expect of our school community. Our uniform is compulsory for all.
School Uniform List
School uniform is available from our uniform supplier – Uniformity – based in Chester. Uniformity can arrange for delivery directly to school. Parents/Carers will need to provide school trousers/skirt, shoes, shirt/blouse, tie, and blazer as detailed in the dress code below.
Further information is available by following this link – https://www.uniformityschools.com/collections/rudheath-senior-academy
| | |
| --- | --- |
| Blazer | Rudheath Senior Academy School Blazer |
| Skirt | Standardised black knee length in plain material. |
| Trousers | Black, standard, school tailored style. No shorts, denim, cotton or canvas jeans, leggings or stretch fabrics. |
| Shirt | Plain white tailored with collar which must be tucked in at all times and have the top button fastened. |
| Tie | A school tie must be worn appropriately at all times. |
| Sweater | Plain Black of school logo V-neck knitwear sweater may be worn under the blazer. No other branding is acceptable. |
| Socks | Grey or black. |
| Tights | Black or natural shades without patterns. |
| Footwear | Smart, polished flat shoes (no trainers, pumps, high heels or canvas shoes are allowed). |
| Religious Dress | Turbans to be of a plain, dark colour or if a Hijab is to be worn, this should be a plain, dark colour. |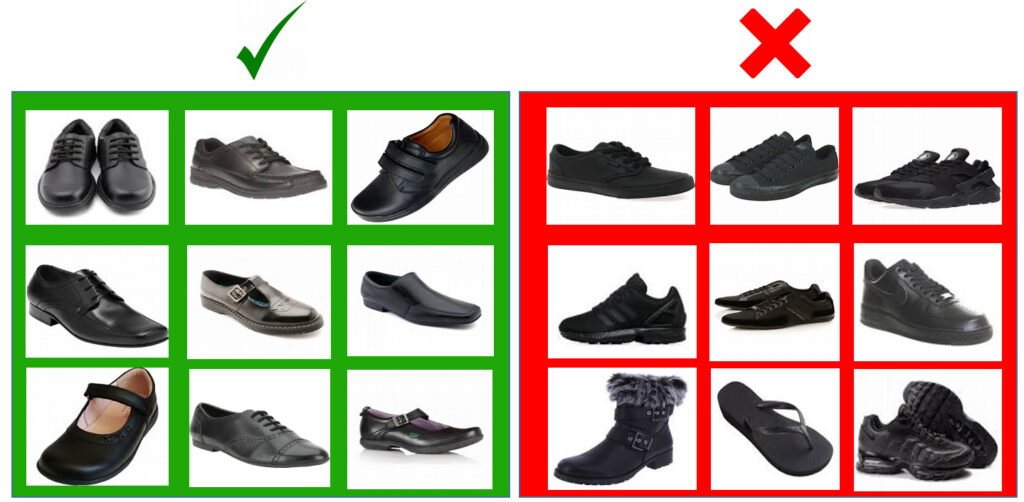 PE Kit
| | |
| --- | --- |
| Shirt | RSA PE top/ polo shirt. |
| Shorts | RSA shorts or plain black shorts. |
| Tracksuit Bottoms | Black tracksuit bottoms may be worn. |
| Sports Leggings | RSA sports leggings or plain black sports leggings. |
| Socks | RSA socks or plain black long sports socks. |
| Footwear | Sports trainers – To be used at all times in the sports hall, dance studio, netball courts, gym and on the grass field during the Spring and Summer months. |
| Studded Football Boots | To be worn for all football and rugby lessons. |
| Shin Pads | To be used for all football and rugby lessons. |
Mobile Phones
During school hours, mobile phones must be switched off and kept in a safe place such as a school bag. They must be kept out of sight and are the responsibility of the pupil and not the school.
To support with removing barriers and distractions in the classroom, Rudheath Senior Academy acts as a 'mobile detox' school. In striving to promote our ethos of excellence and kindness, the use of mobile phones during social time (lunch/break) can cause unnecessary strain and pressure, poor relationships and a negative affect on pupil mental health.
It is expected that mobile phones will not be on or out of bags during the hours of 8.40am – 3.10pm, unless permission has been sought from a teacher – for example, to use them for research or positive teaching strategies.
If you need to urgently contact your child, please contact the school reception and a message will be communicated via their class teacher and/or Head of Year.
Uniform Supplier
The uniform and PE kit for Rudheath Senior Academy is supplied by: Uniformity Clothing Ltd
22 – 26 Handbridge
Chester
Cheshire
CH4 7JE
Telephone: 01244 680187
Website: https://www.uniformityschools.com/collections/rudheath-senior-academy
Equipment
The following equipment is considered an essential minimum to be brought to school each day.
Pencil case, consisting of pens, pencils, ruler, eraser, and pencil sharpener.
Mathematical equipment and scientific calculator.
Student planner.
Suitable bag to carry equipment.