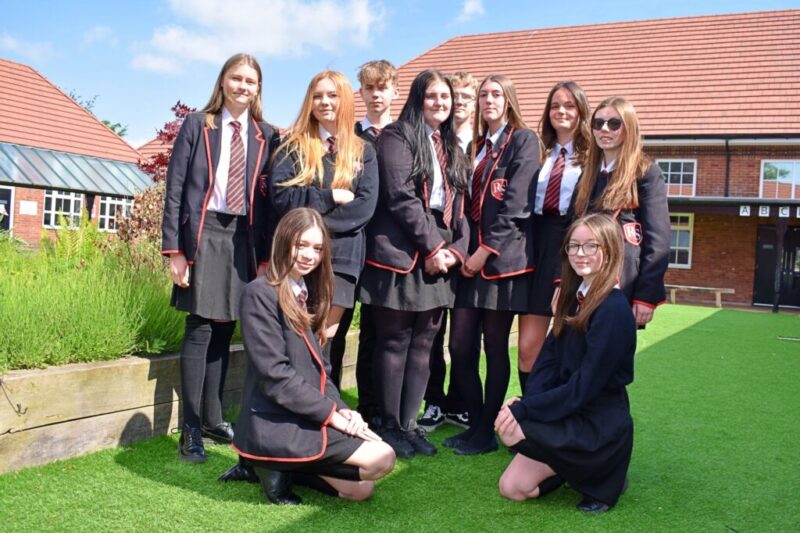 Rudheath Senior Academy pupils wrote a gripping 22,000-word novel in less than a week – and it's now on sale! 
Children in Year 10 came together to plan, write, and proof-read, an original story in just a few days, as part of a project in conjunction with Keele University.
Now The Mycelium Plague, a captivating page-turner about a race to save the human race from a deadly disease, is available to buy online.
One member of the team of pupils, Temperance Herrieven-Smith, said: "We all put in loads of ideas and bounced off each other.
"We sat together and wrote the whole thing in four days. On the first day we were given a prompt, and then we came up with strange things that could happen.
"We each had our own characters, and we had to write a whole profile for them. Then we brought it all together and used a whiteboard to plan it out."
Classmate Jade Keen added: "The story is about the outbreak of a plague in a college. A group of children have to figure out how it started, and how to stop it.
"Obviously, there's a few plot twists towards the end, but I don't want to give them away!"
The project was part of Keele University's White Water Writers scheme, which has helped scores of students from schools across Cheshire, Staffordshire, and Shropshire, become published authors.
The Rudheath pupils' novel comprised 186 pages, divided into 31 chapters, and is now available in paperback (£4.99) or Kindle edition (£0.77).
Rudheath Senior Academy became part of North West Academies Trust in 2018. Since then, more than £8m has been spent on a monumental programme of improvement.
The Middlewich Road school now boasts state-of-the-art facilities, and became first senior school in the country to provide free school meals to all pupils at the start of this year.
Headteacher James Kerfoot said: "Alongside the academic achievements of students, we make sure we provide education which build characters and helps them to become great people.
"I'm really proud of the way the Year 10 group worked hard together to make their vision become a reality, and The Mycelium Plague is a great read!"